basement waterproofing
Fast, Professional, Quality Basement Waterproofing Services
Ensure your basement stays dry with quality and affordable basement waterproofing services from Inside Guys Underpinning. Our staff offers the reliable services you need, including new system installations, pumps and battery backups. We service all of the Great Toronto Area. We have extensive experience in all types of drainage systems, wet basement, and crawl space moisture issues that range from dampness and mold to water leaks and water seeping through foundation walls and basement floor cracks.
Our basement experts have the skills and experience needed to fix your basement problem effectively and quickly. No basement is too big or too small for us to fix and we work to keep your basement dry all the time.
Waterproofing is the easiest way to protect your home. Water intrusion needs to be addressed quickly to avoid developing future problems, like mold.
Our drain tile and pump systems have been time tested to keep your basement dry. At Inside Guys Underpinning Toronto offers 24-hour emergency service for those really wet days. We use only the highest quality materials to ensure your concrete investment will have unmatched appearance, strength, and durability.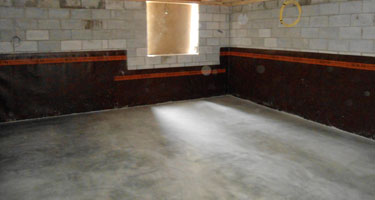 We will help you to avoid costly, disruptive demolition & reconstruction
Reduce or eliminate most future foundation related problems.
Inside Guys Underpinning Toronto can provide permanent, warranted solutions to foundation structural problems. Home and business owners appreciate the fact that many of these engineered repairs can be completed in a couple of days, with minimal disruption to the property.